Alisa K. Romero, PA-C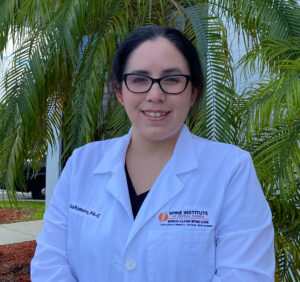 Alisa K. Romero completed her Bachelor of Science degree in Biology at Florida Gulf Coast University in Estero, Florida.  She then went on to get her Master of Clinical Medical Science degree at Barry University in Miami Shores, Florida.  Other education includes a completed course in Medical Spanish.
When Alisa was young, she had a lot of role models in the medical field, including both her Mom and Grandmother who were nurses, and she knew at an early age that she wanted to work in medicine.  She learned about the Physician Assistant profession while working as a behavioral health technician in a mental health crisis unit and that is when she decided that she wanted to become a PA.
Alisa believes in treating the patient, not just the diagnosis, and enjoys the relationships that are built with patients over time.  She is a provider that will empathize with her patients' pain and work with them to find a way to help improve their quality of life.  Alisa enjoys seeing symptoms improve as she works together with her patients toward a common goal of finding the source of pain and then resolving it.  She holds memberships with the American Academy of Physician Assistants and the Florida Academy of Physician Assistants.  Her active certifications include Basic Life Support (BLS) and Advanced Cardiac Life Support (ACLS).
When she isn't working, Alisa enjoys spending time with her four children.  She loves visiting theme parks, cruising, and family board game night.