Colby L. Fagin, MD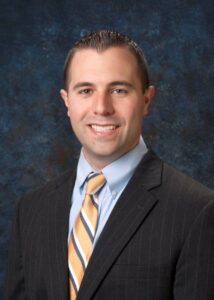 Colby L. Fagin, MD is a fellowship trained Orthopaedic Spine Surgeon specializing in cervical, thoracic, and lumbar orthopaedic spine surgery as well as kyphoplasties.
Dr. Colby L. Fagin graduated from Rutgers University with honors, earning his bachelor's degree in Cell Biology and Neuroscience with a minor in Psychology.  He then completed his medical education at UMDNJ-Robert Wood Johnson Medical School.  Dr. Fagin performed both his general surgery internship and orthopaedic surgery residency at Monmouth Medical Center in Long Branch, NJ.
His completion of residency was followed by two fellowships, the first a combined Neurosurgery and Orthopaedic Spine Surgery fellowship at Cleveland Clinic, and the second a Spine Surgery fellowship at West Virginia University.  He is a member of the American Academy of Orthopaedic Surgeons and AO Spine.
Dr. Fagin utilizes an individualized approach to patient care, attempting all conservative treatments first before then applying the least invasive and most effective surgical solution when necessary.  He believes in treating his patients like he would a family member.
When Dr. Fagin is not taking care of spines, he loves spending time and traveling with his family.  He also enjoys exercise, surfing, and other outdoor activities.