Chukwuka Okafor, MD, MBA, CIME
Board Certified Orthopaedic Surgeon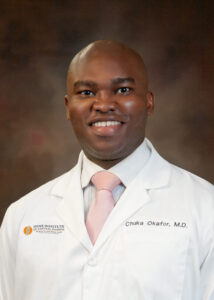 View Dr. Okafor's Curriculum Vitae
Dr. Okafor is board-certified by the American Board of Orthopaedic Surgery.
Dr. Okafor graduated Summa Cum Laude with a Bachelors of Science in Biochemistry from the University of Massachusetts-Boston. He delivered the Valedictorian Speech during his college graduation. He was presented the coveted John F. Kennedy Award, which is the highest award, honor and recognition that the University of Massachusetts bestows on a graduating undergraduate student for Service, Great Leadership and Academic Excellence.
Dr. Okafor completed medical school at the esteemed Boston University School of Medicine. He then was accepted into one of the top nationally recognized Orthopaedic Surgery Residency training programs at the Thomas Jefferson University Hospital with the Rothman Institute. While in Residency he trained with National leaders and World-renowned Spine Surgeons. He had extensive training in all aspects of Spine Surgery, including the most advanced and complex procedures for treating neck and back disorders, spine trauma and spinal cord injuries.
Dr. Okafor is a board certified and fellowship trained Orthopaedic Spine Surgeon. He received specialized training on Pediatric Spine Surgery at the Alfred I. DuPont Hospital for Children, Wilmington, Delaware, where he received training on all aspects of complex pediatric deformity correction, and adolescent scoliosis corrections.
Following completion of residency, he completed a combined Neurosurgery and Orthopaedic Spine Fellowship with the Florida Orthopaedic Institute in Tampa, Florida. Dr. Okafor is well trained in all aspects of Spine Surgery. He performs all cervical, thoracic, lumbar and sacral spine procedures. He performs all types of Complex Spine Reconstructive procedures and Deformity corrections. Dr. Okafor performs scoliosis correction and fusion surgeries for patients of all ages. He employs very advanced and cutting edge minimally invasive surgery techniques for his scoliosis correction surgeries.
Dr. Okafor is also an expert in the treatment of Spine trauma, spine tumor reconstruction, all types of degenerative spine disorders, failed back surgery, and failed neck surgeries. He performs complex revision spine surgeries that other surgeons are not comfortable operating on.
Dr. Okafor performs all types of minimally invasive spine surgery. He has more training in minimally invasive spine surgery than most spine surgeons in the United States. He believes that every problem has its own unique solution.
Dr. Okafor performs epidural steroid injections. He also performs Spinal Stimulator placements both percutaneously and the more effective dorsal column transverse tripolar or 5-column Penta paddle lead placements. He also places intrathecal pain pumps to a very select patient population with certain ailments causing axial back pain.
Dr. Okafor is an award winning teacher of new Surgeons and future Surgeons. In addition to the numerous awards he's received for his presentations and teaching, he was awarded the Department of Orthopaedic Surgery Medical Student Education Award, which is awarded by vote of all senior medical students to the Resident Physician who made the greatest contribution to their education.
Dr. Okafor is active in research and has published very extensively. He has presented his work all around the country. He has authored numerous textbook chapters in Spine Surgery, and published numerous articles in peer-reviewed Spine Surgery and Orthopaedic Surgery journals. He continues to give lectures and publish articles relating to disorders of the Spine.
Dr. Okafor is Board Certified by the American Board of Independent Medical Examiners (ABIME). As a Certified Independent Medical Examiner, he is highly trained to provide the highest quality independent medical examinations and case reviews. ABIME certification represents the pinnacle of professional competency and integrity. Certification through American Board of Independent Medical Examiners is a prestigious distinction which sets apart Physicians as internationally recognized medical examiners.
He believes in treating every patient with care, he takes care of all his patients as if they are family. He employs the least invasive, most innovative, and most effective techniques when treating each patient. This approach leads to the best outcome for his patients.
Diplomat of American Board of Orthopaedic Surgery
Affiliate Assistant Professor of Orthopaedic Surgery
Department of Orthopaedics and Sports Medicine
University of South Florida, College of Medicine
College: University of Massachusetts-Boston (B.S.) – Boston, MA
Biochemistry with Highest Honors and Summa Cum Laude
Delivered Valedictorian Speech at College Graduation
Medical School: Boston University School of Medicine (M.D.) – Boston, MA
Graduate School: American University Kogod School of Business
Masters in Business Administration (MBA)
Concentration in Health Care Management
(Graduated with highest GPA of graduating class)
Internship:
General Surgery – Thomas Jefferson University Hospital, Philadelphia, PA
Residency:
Orthopaedic Surgery – Thomas Jefferson University Hospital and Rothman Institute Orthopaedics, Philadelphia, PA
Fellowships:
Orthopaedic Surgery Clinical and Biomedical Research Fellowship – at the National Institutes of Health, Bethesda Maryland
Combined Orthopaedic Spine Surgery and Neurosurgery Fellowship – Florida Orthopaedic Institute and Tampa General Hospital, Tampa, Florida