German Marulanda, MD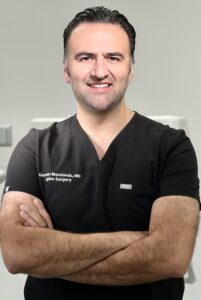 Dr. Marulanda completed medical school at the Universidad El Bosque in Bogota, Colombia. He was then accepted into the Orthopaedic Surgery Residency training program at the University of South Florida. While in residency he had extensive training in a broad spectrum of state-of-the-art clinical services. Following completion of his residency he completed a Complex Spine Surgery Fellowship at Moffitt Cancer Center and Florida Orthopedic Institute in Florida.
Dr. Marulanda has extensive training all aspects of Spine Surgery, including the most advanced and complex procedures for treating neck and back disorders, spine trauma and spinal cord injuries. He performs all cervical, thoracic, lumbar and sacral spine procedures. He performs all types of Complex Spine Reconstructive procedures and Deformity corrections. He also performs scoliosis correction and fusion surgeries for patients of all ages.
Dr. Marulanda is an expert in the treatment of all spine related traumas, reconstruction, and disorders. He also performs steroid injections and all types of minimally invasive spine surgery.
Dr. Marulanda is active in research and has published extensively. He has presented his work around the country and authored numerous peer-reviewed publications and book chapters on the diagnosis, treatment and rehabilitation of orthopedic care issues.
Dr. Marulanda treats all of his patients as if they were close friends and is dedicated to providing the best care for his patients. He employs the least invasive, most innovated and most effective techniques that leads to the best outcome for each patient.
Medical School: Universidad El Bosque (M.D) – Escuela Colombiana de Medicina – Bogota, Colombia.
Internship: General Surgery – University of Maryland Medical Center – Baltimore, MD
Residency: Orthopaedic Surgery – Department of Orthopaedics and Sports Medicine at the University of South Florida – Tampa, FL
Fellowships:
Complex Spine Surgery Fellowship – at the Moffitt Cancer Center/Florida Orthopedic Institute – Tampa, FL
Adult Reconstruction Research Fellowship – at the Rubin Institute for Advanced Orthopaedics – Baltimore, MD
Cartilage Biochemsitry Research Fellowship – at the Cleveland Clinic Foundation – Cleveland, OH
Adult Reconstruction Research Fellowship – at the Universidad El Bosque – Bogota, Colombia